TCA's Annual Fall Conference
November
2-3

, 200

7




The University of Texas at Austin

Click HERE for the print version of the program, including registration forms, etc.
The fall conference fast approaches.
We will hold our annual conference on Saturday, November 2, in the Thompson Convention Center at the University of Texas campus in Austin.
We have reserved a block of rooms at the Hampton Inn Austin (SEE BELOW), Airport Area South on Governor's Row for a group rate of $99/night single or double, with free parking and free hot breakfast. In order to make reservations, please call the Hampton Inn at 512-442-4040; the confirmation number guaranteeing our rate is #84231082 (mention the Texas Classical Association).
Friday, November 2:
Noon - 2:30pm: TCA board meeting
3:30 pm (not 3:00 as in the program): The UT Classics department invites us to join them for a talk by Prudence Jones on "Dido and Cleopatra: Invention and Reception" in the Classics department's conference room.
FRIDAY NIGHT FESTIVITIES!
Please join the UT Austin Department of Classics as we honor Douglass Parker on the occasion of his retirement:
7:00 PM
At the home of David Armstrong:
2516 Harris Boulevard, Austin Texas 78703 (MAP)
The festivities will include a reception and a reading of Professor Parker's translation of Aristophanes' Wealth.
Take 24th street west from the UT campus and turn right on Harris Boulevard (shortly after Lamar); 2516 is on the left after 1 and 1/2 blocks.
Saturday, November 3:
8:30 Coffee Morning session:
Julia Dyson-Hejduk, Baylor University, "Poisoner, Prostitute, Politician: Who was Clodia?"
Robert Cape, Austin College, "Reviewing the 2007 AP Latin Exams: Observations and Suggestions"
Ginny Lindzey, Dripping Springs High School, "Latin blogs in the classroom and in romance..."
Grace Starry West, University of Dallas, "Suicide Mission, Western Study: Frank Miller's (and Zach Snider's) 300."
Lunch: TCA annual meeting
Afternoon session: Key-note address: Prudence Jones, Montclair State University, "The Problem of Motherhood: Cleopatra and the Ideal Roman Woman"
Haley Smith, Austin College, "The Translation of Marsyas from Greece to Rome"
Edward Tabri, University of Texas at Tyler, "Reception and Influence of Classical Literature at the Court of Charles the Bold, Duke of Burgundy"
Panel discussion with New Latin Teachers: What we wished we knew when we began.
Coffee breaks will be provided.
Below is the necessary hotel information so people can start planning.
REGISTRATION INFORMATION
Although we don't have an official registration form ready yet, you can plan ahead with the following information:
$40 dollars for those who register before the conference
$45 for on-site registration
$15 for the lunch.
Please contact Nicole Lehmann for more on preregistration and registration questions and information at nlehmann@ahisd.net.
HOTEL INFORMATION
Hampton Inn Austin/Airport Area South
4141 Governors Row
Austin, Texas, USA 78744
Tel: +1-512-442-4040
Fax: +1-512-442-7122
Confirmation number #84231028
$99 per night, includes free parking and hot breakfast.
Rooms will be held until October 19, 2007.
When calling to make a reservation, please give the confirmation number above and mention the Texas Classical Association in order to get the group discount.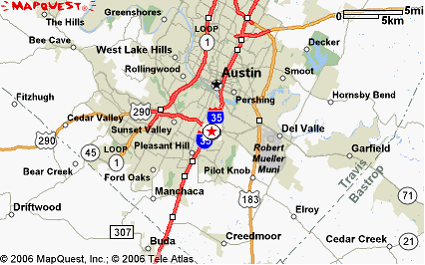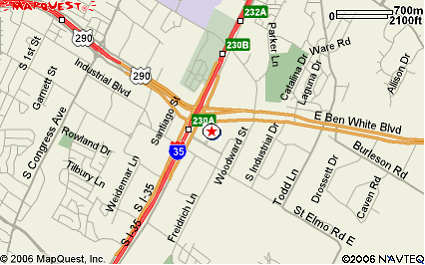 Directions:
IH-35 South - 3 miles South of downtown, exit 231 Woodward, stay on IH35 service road heading South through the intersection to Ben White Blvd (Hwy 71). At Ben White, take a left under the freeway, about 200 yards, turn right onto Governors Row and the hotel is on the left.
IH 35 North - exit Ben White (#230) at the light on Ben White turn right. Take the first right onto Governors Row and the hotel is on the left.
From Hwy 71 heading West- after crossing Hwy 183 drive 4 miles and proceed through the Woodward light, then just before IH-35 intersection find and make the U-turn. Governor's Row is the first right. Hampton Inn is on the left side of Governors Row.
From Austin Bergstrom Airport - Exit airport to Hwy 71 West, turn left, go six miles. Proceed through the light at Woodward, just prior to IH35 intersection find and make the U-turn. Governor's Row is the first right with Hampton Inn on the lefthand side of the street.